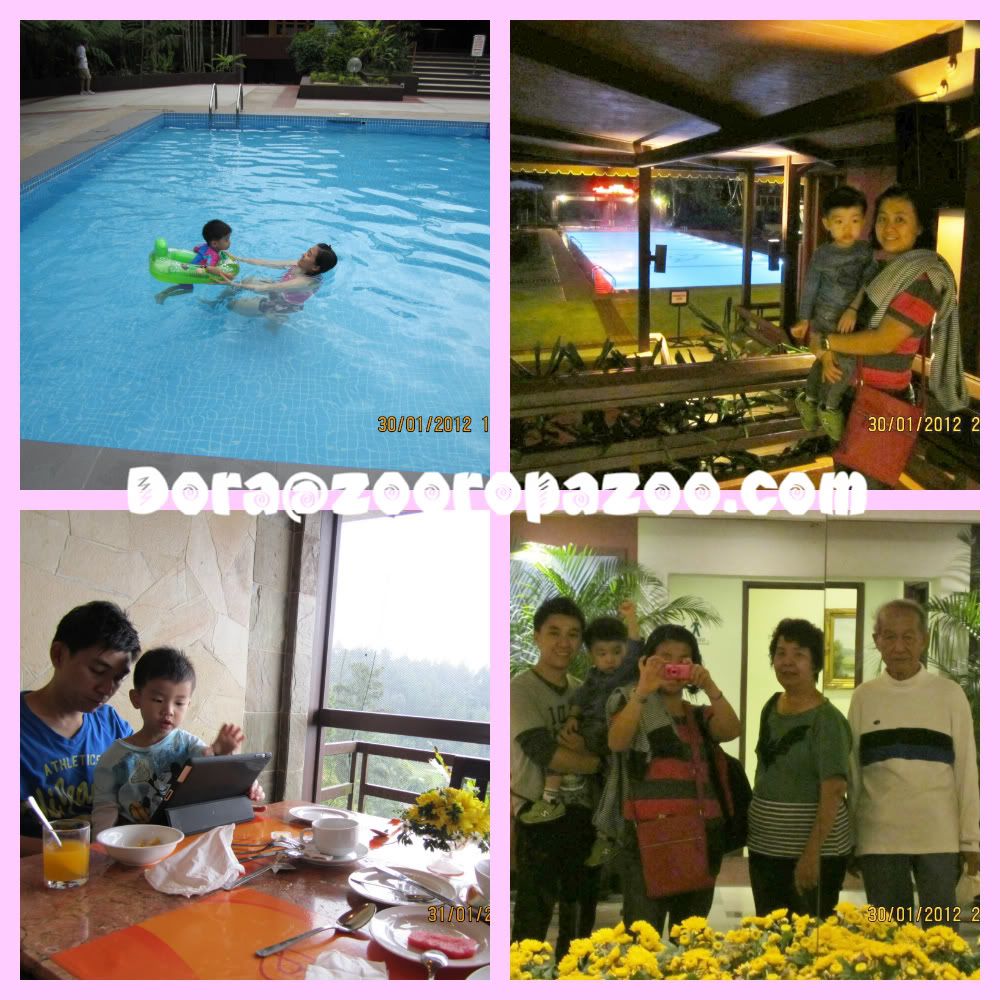 Love to spend time in swimming; The night view of swimming pool is good; This corner for breakfast is best for morning freshness! ; The FABULOUS FIVE, hahaha
We had 2 short trips earlier, one is during CNY while the other is after. When everyone is commenting going up to Genting will be crowded on any day during the entire CNY. Well, my experience told me that I seldom listen to people & I'll follow my instinct & I was right. That was the 10th day. The traffic was smooth & weather was terrific, shower rain in the morning simply refreshing! Again we went there with my parents & stayed at Awana, our preferred hotel than those up there. Every time to Genting Highlands, our aim is to enjoy the weather & mother nature around Awana plus food at buffet dinner, hehehe
And going Genting is merely 1 hour++ road travel. I spent my late afternoon with XJ in the swimming pool. That's our most favorite activity here. Water in the pool is so warm & comfortable, XJ very reluctant to leave. I dipped myself in the jacuzzi for about 0.5 hours to rejuvenate my tiring body. After a few round of swimming to burn some calories, we all took cable car up to the hill and had a slow but satisfying buffet dinner@Resort Cafe.
XJ playing at the chess place in the hotel's compound, we didn't notice this last time; Enjoy the beautiful beach; We took the opportunity to explore the small town of Sg. Lembing before we headed home (but just in the car 'coz XJ was sleeping & his temperature was started to rise)
In end of February, we had 3D2N stayed at Swiss Garden Resort & Spa, Kuantan. Everything was alright but the only downside was XJ had fever. I thought to visit the Pead and brought along the medicine + thermometer is good enough & should be worry-free. This little fella didn't want to drink milk which I've mixed the syrup medicine. The most he just took 2 times when I forced him, that's not enough to subside… End up we went to the Specialist Hospital Kuantan at 2am because his temperature shoot up to 38.8! Perhaps the effect of inserting medicine in his anus for twice, and you know that's the express method to lower the temperature, XJ was always sleepy although he is recovered from fever 2 days after that. Apart from that, we saw the left-wing political party members during our stay as they had gathering there. And we bumped into the leader of this party & his wife + daughter too, it's a co-incidence that we stayed at the same floor!